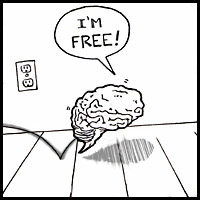 I'm in the slow but steady process of renovating this site's design over the next few weeks. I'll also be rolling all the
Absentminded Bookshelf
posts into this blog. Some of you may have been confused because they are at the top of the RSS feed but have old post dates. I'm keeping the original dates and migrating their comments over to make the two blogs into one. The two blogs originally began with separate purposes but grew more and more similar over time. I think it will be easier for me if I just have one blog to worry about because my time has become exceedingly precious over the past few months. I'm also losing interest in writing weekly articles so I want to change things a bit to help keep my and your interest. The original purposes of this blog have been met so I'm afraid I'm outgrowing it.
That's why I'm now announcing this blog's new direction as a Britney Spears Texas Hold 'em Poker extravaganza! No? Alright, well, give it some thought. The world
just lost
it's biggest Britney Spears fansite and I really feel we could fill that gap or something. Of course, I haven't cleared this with my wife yet, but she's usually so supportive...