Sequestered away and worried about COVID–19? It's good to take this crisis seriously, but social distancing doesn't have to be as dire as people online make it seem. Here are the top ten ways I've kept my attitude upbeat while isolated from others.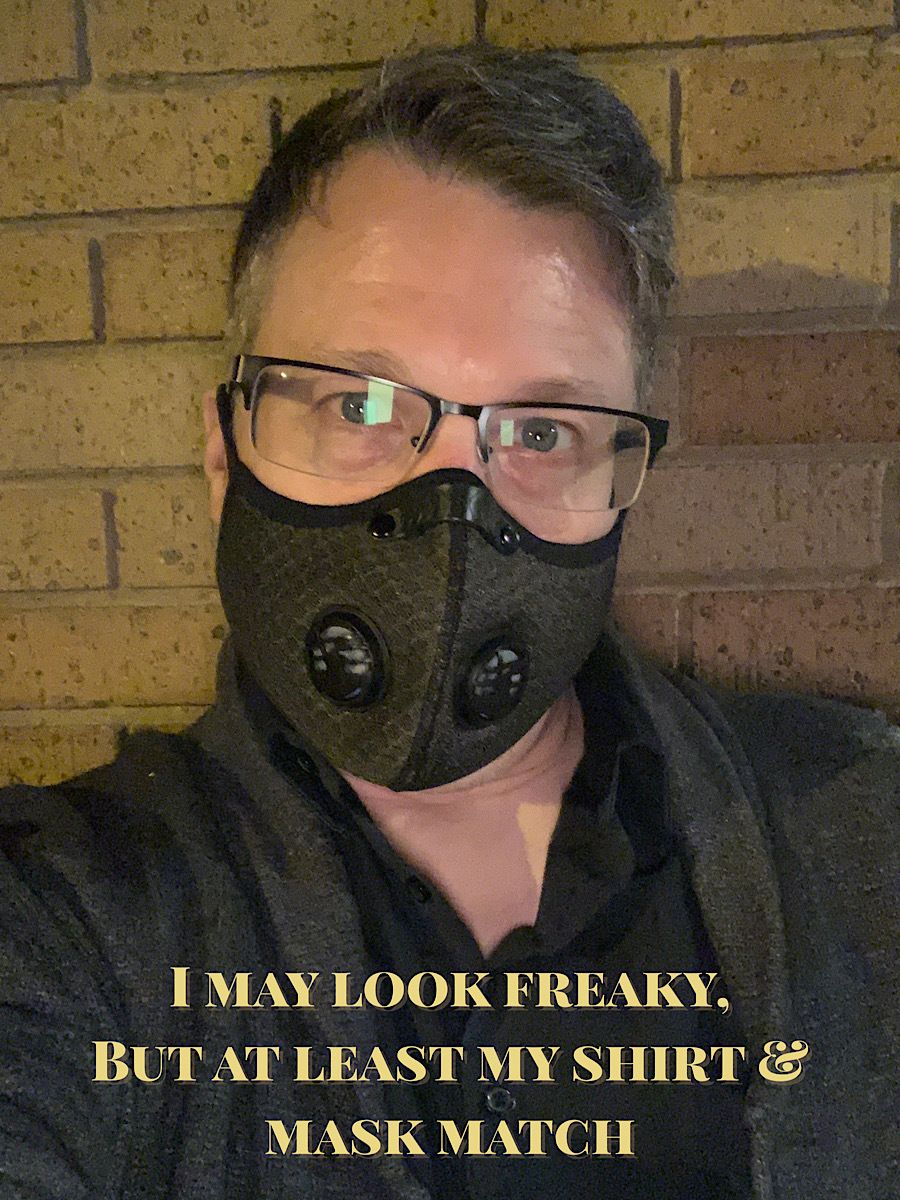 As I've written before, I've been sick and social distancing since September 2019. I have asthmatic bronchitis, rhinitis, and chronic respiratory inflammation. Consequently, my body has been so busy struggling to breathe, it hasn't had much oomph left to fight off every cold & virus in Utah. At first, I just thought I was getting a lot of colds for some reason. As soon as I got better, I'd go out again, but by the end of September, I was staying clear away from everybody as much as possible. By Christmas the isolation became difficult to bear. I'd do things with family, wearing a dust mask to filter out the smog, but it would only work for a short time. I was too sickly, and I ended up sicker and sicker. I had to stop socializing entirely.
Which brings me to today. COVID–19 has brought our societies to a standstill. We're told to self-quarantine if we suspect we're ill and practice social distancing if we're healthy. I've started seeing articles popping up on how lonely social distancing is going to make us. From experience, I can tell you that social distancing may not be party, but it doesn't have to be an experience of extreme isolation and loneliness, either.
Social distancing is different than self-quarantine. It's easy to avoid others when you're sick because you're often too sick to mix and mingle, but social distancing when you're healthy feels wrong—like you're a paranoid nutcase who's overreacting. I've been there. Unlike self-quarantine, you're not locking yourself away with social distancing. You're only minimizing contact and exposure to others. Taking precautions for yourself and others, you can still go out.
I have Major Depressive Disorder and Persistent Depressive Disorder, and I've managed to keep my spirits up these past six months. I'm all set for COVID–19. With some preparation and planning, you, too, can avoid the doldrums and make your isolation less lonely. I'd like to share with you my ten most successful activities. I hope they give you ideas to adapt in your own lives:
Stand your ground. Not an activity, but the first important step. I skipped a writer's conference last month despite a friend offering to pay my ticket. It was hard, but I'm glad I didn't go. I'm sure I would have picked up a case of impending death from somebody. COVID-19 isn't the only virus out there. Fight the temptation to gather with large groups of people.
Get good rest. Being forced outside of your regular school or work routine, you'll be tempted to either stay up late or sleep in. An irregular sleep schedule fuels fatigue & depression, so maintain a routine, or you'll suppress your immunity system.
Daily/Weekly exercise When a valiant attempt to hike my neighborhood hill ended in an asthma attack, I found indoor activities to boost my metabolism. I'd dance for 20-30 minutes, or walk on my treadmill. I even practiced longboard dancing while watching TV. If you're not sick, go out for a walk. Go for a run. Walk your dog, and so forth. You can go outside. Just keep your distance from others and wear a mask.
Limit your screen time. Don't waste your time in front of the TV, or endlessly scroll on Instagram or TikTok. I binged plenty, especially when I was bedridden, but I kept an eye on the clock. Passive activity can induce depression, so I mixed up my activities.
Play video games. Dragon Quest XI S_ saved my life in October. I sought out games that engaged my mind and lifted me up, and I made sure to cut out other screen time activities as pointed out above. In addition, online games can keep you connected with others while keeping your mind active. If video games aren't your scene, replace with any other hobby that engages your mind.
Balance work projects with fun Even if you can't work from home, you can still keep yourself busy. Now is a good time for ignored projects like tackling paper piles or preparing expense reports, but always make time for fun. Over the past six months I've done many projects, both fun & productive. One day I chose experimental baking. (My poor family!) I refused to let boredom settle in. I kept myself productive, alternating fun with work.
Don't be a stranger! I kept in frequent contact with friends and family. FaceTime, Skype, Hangouts…even old-fashioned phone calls. Don't let social distancing turn you into a hermit.
Upkeep your grooming. Once I started to recover, I made sure to shower, shave, and dress. During the worst of the sickness, I didn't shower or shave much, but now that I have more energy, I shower frequently. At first, I tried to shave at least weekly. Now I'm up to twice a week. Boosting your self-esteem and self-image can help offset depression.
Prayer helped me find peace with my situation. It's easy to be angry and frustrated when our social life is curtailed drastically. However, we can't change our situation anger and frustration. If prayer isn't something you do, meditation and yoga can also be effective ways to release stress and find peace. Keeping my attitude upbeat and in check was key to surviving these past six months.

And the number one activity that helped me?

Japanese Light Novels! No? Well, at least consider getting over your resistance to eBooks. Since I couldn't physically go to the library, I borrowed plenty of ebooks. Using a Kobo and Overdrive's Libby app, I borrowed ebooks from my device. The same can be done via the web with a Kindle (and other eReaders via side-loading). I also purchased plenty of eBooks from the Kindle and Kobo online stores. Audiobooks are just as easy to download from home. Both Kobo & Kindle (through Audible) offer subscriptions with endless books to fill your ears. I believe ebooks are better read on iPads, tablets, or dedicated ereaders, but you have to use whatever you have at hand, even if it's a tinier phone. Whether you prefer ebooks or audiobooks, reading keeps the mind honed and sharp, and by borrowing everything online, you can avoid contact with strangers.
I am very proud of my efforts to fight depression while dealing with self-quarantining and social distancing. I managed my depression and kept my spirits mostly up. With my health improving little by little, I hope to add working on my next book to my list of projects, but I have forgiven myself for not being as productive as I would have liked.
Now that COVID–19 is on the scene, I'm not apprehensive about social distancing. I've been doing it for six months and still maintained relationships with others while maintaining a positive outlook. Don't let yourself get discouraged. This isn't forever. In a short time, a vaccine will arrive and we can all stop hoarding toilet paper. In the meantime, please believe me that social distancing isn't the end of the world. It doesn't even have to be boring.
⁂
If you liked this article and don't have a Kobo account, please consider setting one up through this affiliate link: https://share.kobo.com/x/dMaBW5. Once you buy an ebook, this gives me some credit to buy my daughter & I more to read. My social distancing days may not be over when everybody else gets cleared to resume normal activities. Thanks.